EH-Q170

Share
Quartz pipette holder
Description
While polycarbonate is a proven material for patch pipette holders, it undergoes significant thermal expansion.  Uneven warming may lead to motion of the pipette tip and is often incorrectly perceived as drift in the micromanipulator.  Quartz has a significantly lower thermal expansion coefficient and virtually eliminates thermal drift.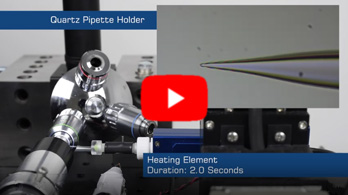 Features:
For pipettes (Glass capillary) with 1.0-1.7 mm O.D.
Precision quartz barrel ensures ultimate stability
Color-coded gaskets for four glass diameters
Compatible with all Sutter Instrument headstages and many of Axon Instruments.
Note: Quartz is fragile and may crack or shatter on impact. Treat your quartz electrode holder with the same care you would with any optical component.