CEA 200

Share
Tapered Tip Concentric Microelectrodes (MicroProbes)
Description
Possessing an insulated stainless steel shield with polyimide insulation.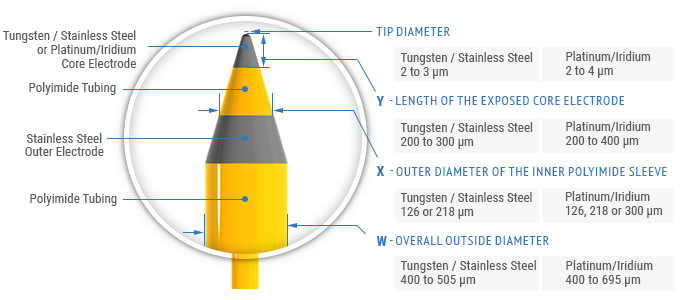 The CEA-200 tapered concentric electrode is ideal for localized stimulation or population recording in fixed preparations or acute animal experiments. They feature a long, fixed shaft that allows for easy gripping and manipulation, and a sharp durable tip capable of penetrating tough tissue.
Compared to the stepped "Rhodes" style tips of the NE and SNE Concentric models, the tips of the MicroProbes CEA models are precision-ground to a sharp point.
Many features are fully customizable by special order, including shaft length, flexible wire length, connector type, and other features.
Tungsten Concentric Electrodes,
with stainless steel Tubing and Polyimide Insulation
| | | | | | | |
| --- | --- | --- | --- | --- | --- | --- |
| Item | Length | W | X | Y | Tip Diameter | Pkg of 5 |
| WE3CEA3-200 | 76 mm | 400 µm | 126 µm | < 300 µm | 2-3 µm | |
| WE3CEA5-200 | 76 mm | 505 µm | 218 µm | < 300 µm | 2-3 µm | |
| WE5CEA5-200 | 127 mm | 505 µm | 218 µm | < 300 µm | 2-3 µm | |
Stainless Steel Concentric Electrodes,
with stainless steel Tubing and Polyimide Insulation
| | | | | | | |
| --- | --- | --- | --- | --- | --- | --- |
| Item | Length | W | X | Y | Tip Diameter | Pkg of 5 |
| SS3CEA4-200 | 76 mm | 410 µm | 140 µm | < 300 µm | 2-3 µm | |
| SS5CEA4-200 | 127 mm | 410 µm | 140 µm | < 300 µm | 2-3 µm | |
Platinum/Iridium Concentric Electrodes,
with stainless steel Tubing and Polyimide Insulation
| | | | | | | |
| --- | --- | --- | --- | --- | --- | --- |
| Item | Length | W | X | Y | Tip Diameter | Pkg of 5 |
| PI2CEA3-200 | 25 mm | 400 µm | 126 µm | < 300 µm | 2-3 µm | |
| PI2CEA5-200 | 25 mm | 505 µm | 218 µm | < 300 µm | 2-3 µm | |
| PI2CEA10-200 | 25 mm | 695 µm | 300 µm | < 400 µm | 2-3 µm | |
Also see:
Selecting the Optimum Electrode Configuration