2502SA

Share
Skin Conductance Unit (CED)
Description
The 2502SA stand-alone skin conductance unit is designed to take direct measurements of the conductivity between two skin electrodes by maintaining a 500 mV DC potential across them, and then measuring the current needed to maintain this potential. This current value is then represented and output as a scaled voltage, suitable for connection to a CED 1401 laboratory interface.
The 2502SA uses the constant-voltage principle and has manually switched conductance ranges of 10, 25 and 100 μS. Suitable electrodes for Galvanic Skin Response (GSR) studies are supplied with the unit. The sockets accept 1.5 or 2 mm plugs.
The CED 2502SA is offered as research equipment and is not sold as a medical device within the meaning of the European Medical Device Directive.
Box size: 241mm × 241mm × 46mm (W × D × H), external mains-driven power supply.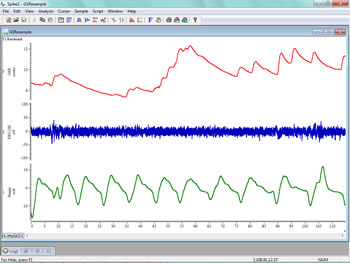 Related Products:
Fast Data Acquisition
and Analysis Interface (CED)

Low-cost Data Acquisition Unit
(CED)

for CED Power1401

for CED Micro1401

of CED Data Acquisition Interfaces
in general