Model 3500

Share
16-Channel Extracellular Differential Amplifier (A-M Systems)
Description
16 low noise, high-gain, full-featured extracellular amplifier channels, designed for amplifying microvolt-level input signals.
Low Noise:   1 µV p-p
Flexible:    Touch Screen and Computer Control
Integrated:   MATLAB, LabVIEW Drivers
The Model 3500 features 16 independent channels, or amplifiers, a front panel touch screen, computer control capabilities and a built-in calibrator.
Users can also easily monitor the activity on any two channels via the convenient front panel BNC signal monitors.
Multiple instruments and multiple channels can be controlled from a single computer program.
The Model 3500 offers:
13 gain settings from ×2 to ×20,000
8 high-pass filter settings from 0.3 Hz to 500 Hz
8 low-pass filter settings from 100 Hz to 20.0 kHz
TTL Control of instrument mode
Twin stimulation busses to pass current
Channel Monitors
Built-In Calibration signal
Common Reference Bus
Blanking
PC control capability
MATLAB® and LabVIEW SDK and drivers available
3U rackmount enclosure accommodates all 16 channels
Model 3500 Control Software
The Model 3500 is supplied with optional Windows control software. This software controls all features of the amplifier via a USB port (cable included).
The program also enables the storage of an unlimited number of 16-Channel parameter files, as well as provides a real-time notepad that logs changes in parameter settings or experimenter-added notations.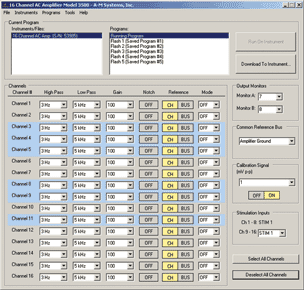 The Model 3500 includes:
USB Cable: Type A to Type B
16 40-inch input cables
Control software
Operator's manual
Rack mount hardware
Power supply
Specifications
Noise

Voltage, fB = 10 Hz-10 kHz, typical: 1.0 µV, p-p

Offset Voltage

Average Drift, typical: ±4.0 µV/°C
Average Drift, maximum: ±30.0 µV/°C

Bias Current

Initial Bias Current, maximum: ±0.4 nA

Offset Current

Input Offset Current, maximum: ±0.4 nA

Input Impedance

1012 Ω || 4 pF

Inter-channel Crosstalk

100 dB at 1 kHz

Input Voltage Size

VDC: 1 V
VAC: Gain / 10 V
Common Mode Rejection (CMR): 100 dB

Rated Output

Voltage Output: ±11 V
Output Resistance: >100 Ω

Low Cut-Off Filter

Cut-Off Frequencies: 0.3, 1.0, 3.0, 10.0, 30.0, 100, 300, 500 Hz
Cut-Off Rate: 40dB/decade

High Cut-Off Filter

Cut-Off Frequencies: 0.1, 0.3, 0.5, 1.0, 3.0, 5.0, 10.0, 20.0 kHz
Cut-Off Rate: 40 B/decade

Notch Filter

Center Frequency: 50 Hz or 60 Hz
Rejection: >35 dB

Gain

13 values from ×2 to ×20,000