Digitimer D440

Share
2 or 4 Channel Isolated Amplifier
Description
The Digitimer D440 Isolated EMG Amplifier is a low noise solution for human EMG studies, specifically those related to nerve excitability. Low noise performance is significantly enhanced through the use of a Driven Right Leg (DRL) circuit which reduces Common-mode interference.
The D440 features an amplification range of ×100 to ×20k. The gain, filter and mode settings for individual channels are adjusted using Digitimer's "virtual front panel" software or other software via a COM interface.
The D440 is available in two versions, the D440-2 (two channels) and the D440-4 (four channels). Each channel features a pair of 1.5 mm touch proof sockets for active and reference electrode connection, but provision is also made for shielded leads with 5-pin DIN connectors. Each amplifier is supplied with a signal output cable (D440-OL-xx, D connector to multiple BNC), electrode connection cable (D-440-IL, 1.2m long with 3 × 1.5 mm DIN42802 sockets for electrode connection and 270 degree 5-pin DIN plug for amplifier connection) and USB cable for connection to the host computer.
Portable, standalone design
Extremely low noise
Rapid recovery from stimulus artefacts e.g magnetic or electrical stimulation
AC and DC operating modes
Analogue signal output for ultimate compatibility with data acquisition systems
Computer control through dedicated Digitimer software or external programs (via COM interface)
Designed for human research applications, including nerve excitability testing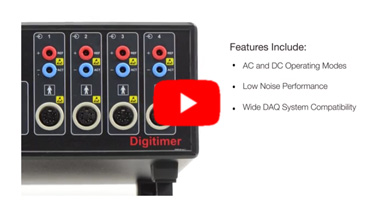 Features
Two (D440-2) or Four (D440-4) Channels of amplification, filtering and isolation – with independent control of each channel.
Primarily designed as an AC amplifier, the D440 will also operate in DC mode.
Input impedance of each channel is 1 GΩ.
On/off control of individual channels. The electronic inputs of individual channels can be grounded reducing cross-talk noise when recording from fewer channels. This also disconnects the patient from the electronics.
Inputs may be electronically switched between a differential and single-ended system.
Common 'Driven Right Leg' system with adjustable gain for lower noise.
Overall system GAIN for each channel x100 (10mV/V) to ×20,000 (50 μV/V).
Outputs have a ±5V range. The rear panel has a BNC socket for monitoring the output of channel 1 (this signal is mirrored on a 9-way 'D' connector on the rear panel along with the output signals of channels 2, 3 and 4). A signal output cable terminated with an appropriate number of BNC connections is supplied with each amplifier.
LOW-CUT FILTER settings are selectable between 0 (DC), 0.159 Hz, 1Hz, 3Hz, 5Hz, 10Hz, 30 Hz and 50Hz for -3dB and are first order.
HIGH-CUT FILTER settings are selectable between 1kHz, 3kHz, 5kHz, and 10kHz for -3dB and are second order, low phase shift Bessel style filters.
The front panel contains three LEDs which are used to indicate the units power supply status, Internal-Error and Data-Bus Busy.
The rear panel contains a mains IEC inlet socket with mains voltage selection, fuses and mains on/off switch, as well a 9-way "D" connector, for connecting channels to a data acquisition system and a USB port for connection to a Windows PC.
A push button Deblock control is present on the front panel with a TTL compatible Deblock facility available via a BNC connector on the rear panel.
Standalone Use - Previous amplifier settings will be maintained if a D440 is used without PC connection.
Supplied with "virtual front panel" control software to adjust the settings of a single D440 amplifier. For applications requiring more than 4 channels, we recommend our D360 8-Channel Isolated Patient Amplifier. The D440 includes a COM interface to allow other software applications to control the amplifier settings.
Mains operating voltage between 115V and 230V (switch selectable) at 50-60Hz. Note: for locations with low mains voltage (< 105V), such as some areas of Japan, a custom D440 with a replaced mains transformer will be required.


Note: The Digitimer D440 is NOT a medical device and use is currently limited to human research applications.