PFA coated tungsten rod

Share
So-called "Teflon coating"
Description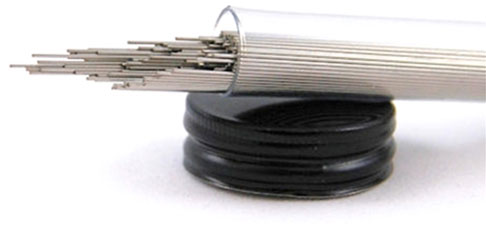 Tungsten Rod with PFA coat


Item



Qty /Pkg



bare
Diameter

insulated
Diameter

Length



718500

35

203 µm

280 µm

102 mm
What are PFA?
PFA or perfluoroalkoxy alkanes are fluoropolymers,which have been developed based on polytetrafluoroethylene (PTFE). In lab jargon PFA coating is often falsely referred "Teflon coating", implying that the actual coat would be PTFE, which looks very similar. Compared to PTFE, PFA have better anti-stick properties, higher chemical resistance on expense of a lesser scratch resistance. PFA are preferred when extended service is required in hostile environments involving chemical, thermal, and mechanical stress. (see Wikipedia)
Teflon® and Teflon®-PFA are registered trademarks of Chemours Co. FC, LLC., Wilmington, Delaware, USA.