Active Air Suspension Vibration Isolation Table
Active Air Suspension Vibration Isolation Table

Share
For Micro-Precision Equipment (TMC)
Description
This precision vibration-isolation table Provides a self-leveling and low frequency isolation in laboratories, claenrooms and inspection areas where footfall and structural vibration can decrease performance, relability and accuracy.
Features
Automatic leveling/height control
High efficiency isolation to 99 %
Ultra-low vertical and horizontal natural frequency
Dimensions
Table top Breadboard size    900 × 750 (1200) × 50 mm  with sealed M6 mounting holes on 25 mm centers.  Other dimensions available.
Table height    760 ± 20 mm
Options
Padded Armrests
Sliding Equip Shelves
Casters (Set of 4)
Optional air compressor

To use this model a compressor or compressed gas tank and regulator is required.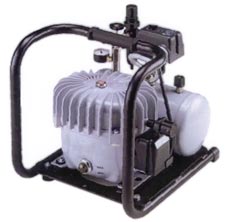 Features
power  230 V / 0.9 A / 50 Hz
max. pressure  8 bar
Tank size  4 litres
noise level  35 dB(A), at 1 m.
Active Air Suspension Vibration Isolation Table