ValveBank/ValveLink

Share
Modular Perfusion Systems (AutoMate)
Description
Unattended solution switching
Avoid vibrations from switching valves by hand. The ValveBank™ or ValveLink® controller handles all solution delivery so that you can watch results – not switch stopcocks. Many special features are included for easy perfusion control. Low noise circuitry.
Increased reproducibility
Valve switching is accurate to 0.01 seconds with programs up to 99 hours long under microprocessor control. Consistent liquid delivery means better data.
Pinch & Teflon™ Valves
Choose between speed, cost, and ease of cleaning. Several options for fittings and reservoirs.

Manual and external valve control
Flexible design. Easy cleaning and calibration. Slave mode valve operation controlled by your computer, pClamp, Pulse, Acquire, LabView, AxoGraph, etc.
Valve Choices
Pinch   1/32" i. d. silicon tube passes through, and is pinched closed by the valve.  No liquid comes into contact with the valve.  Easiest valves to clean and switch tubing.  Open and close in approx. 30 - 50 ms.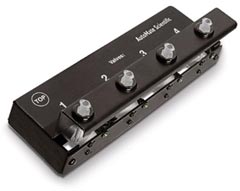 Teflon™    Excellent chemical and corrosion resistance. Non-stick surface resists particle and chemical deposits. Faster opening and closing – in approx. 10 ms.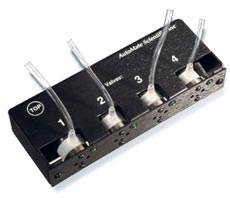 Lee™    Mini Valves for Extremely Fast Switching and Minimal Pressure Pulse
For the most demanding applications AutoMate Scientific offers tiny valves from the Lee Company.  Enclosed in our new aluminum box with luer locks for syringe reservoirs, these valves can open and close in 1.5 - 4 ms with a ValveLink8.2 controller.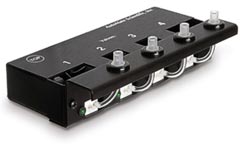 Controllers
ValveBank Controllers
Run experiments automatically – even unattended
By running experiments automatically, AutoMate Systems will leave you free to accomplish other tasks – saving you both time and money.
Microprocessor-based for accuracy and flexibility
The ValveBank™ controller has powerful perfusion commands and capabilities not offered by competing valve drivers.
Low noise & low voltage valve control
Designed for electrophysiology. CE marked for Europe.
Manual, TTL, and RS-232 inputs
Control manually (by push button) or by computer – simultaneously. AutoMate valve controllers are still the only ones with serial ports thanks to their microprocessor design.
Low cost & low profile, simple design
Optional BNC cables and 19" rack-mounting brackets.
ValveBank controllers switch 12 V DC solenoid valves with an accuracy of 0.01 s.  Valves are opened or closed rapidly using full power, then held-in at ½ power to prevent thermal transfer to your solutions.  Low noise circuitry minimizes recording artifacts in electrophysiology.  ValveBanks are designed for use with pClamp, Pulse, AxoGraph, et al., and include dual RS-232 serial ports for daisy-chaining with other telegraphed instruments.  All AutoMate products include a one-year limited warranty covering both parts and labor.
ValveLink Controllers
ValveLinks® are less expensive than ValveBanks and include manual push buttons, digital/TTL and serial inputs to control valves.  They are designed for easy control by your data acquisition software.  The ValveLink16 is the controller of choice for dose response work at pharmaceutical companies and the NIH.  Its sophisticated design allows control of all sixteen valves with only four digital outputs from pCLAMP.


ValveLink8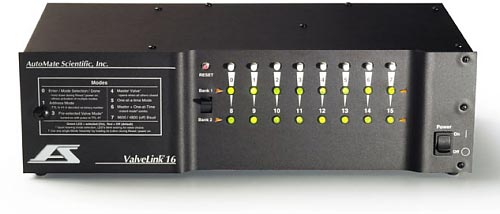 ValveLink16
Computer Interfacing
Perfusion systems can be controlled by a computer using data acquisition hardware (i.e., DigiData, ITC-16, or National Instruments board) and software (i.e., pCLAMP, Pulse, or LabView).  Both ValveBanks and ValveLinks accept real-time TTL inputs to control valves.  Most acquisition software already being used in your experiments can talk to our controllers.  AutoMate offers an optional program called EasyCode® for the Macintosh and PC/Windows to program ValveBanks (not ValveLinks).  This software is used before an experiment – valve sequences are downloaded into the memory of the ValveBank where they are run.
Perfusion Pressure Upgrade
For anyone who needs
Faster Switching
Steady flow
Microinjecting
Fine microliter delivery
Small pipette delivery
Easy to add to any new or existing gravity perfusion system from AutoMate Scientific, any third-party manufacturer, or even homemade rigs.  Connect to house air or compressor (30 to 100 psi).  Does not introduce bubbles into solution; helps overcome flow problems due to bubbles.  Available in four-, eight- or sixteen-channel configurations.  Syringe reservoirs may be placed in a water bath for temperature control.  Elegant design allows individual control of each air line.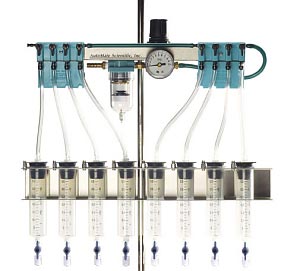 Perfusion Systems Include
Controller, valves, 100 ml polypropylene reservoirs and drippers (or 35 ml syringes and 2-way stopcocks in Luer-lock systems), reservoir bracket, disposable flow regulator, ringstand, 1/16" i.d. tubing and four- or eight-into-one micro-manifold.

The Economy Pinch Valve System includes ValveLink8 controller, four pinch valves, 35 ml syringes, 2-way stopcocks, reservoir bracket, ringstand, 1/16" i.d. tubing and four-into-one micro-manifold.